Summer is in full swing and so too are all things that bloom. Therefore, it's only fitting that you get out of the house this week to enjoy the sunshine, as well as the scents and sounds of summer, and to attend the events featured below. The events were all chosen because they represent or reflect some sort of bloom—whether it be the literal, botanical kind, or an emerging, blossoming artist—so attending them is sure to produce growth in more than one way.
---
Art at St Kate's
Saturday, July 12, 10:00am–5:00pm
St. Catherine University, Saint Paul Campus, Saint Paul, MN
Art at St. Kate's is a juried art fair that features quality fine crafts and fine art and which is produced by Artists' Circle—a non-profit art organization promoting fine crafts since 1995. This is Art at St. Kate's seventh year and once again the fair will take place on the beautiful triangle area at the intersection of Cleveland and Randolph Avenues on the Saint Paul campus of St. Catherine University. The art fair showcases more than 100 juried, local artists from the upper Midwest. Free and open to the public, the fair will run from 10:00am until 5:00pm on Saturday, July 12.
Beer bonus: We have it on good authority that there will be several artists present at the event who make beer-specific vessels. Keep your eyes peeled!
---
Botanical Show
Saturday, July 12, 6:00pm
The Grand Hand Gallery, 619 Grand Avenue, Saint Paul, MN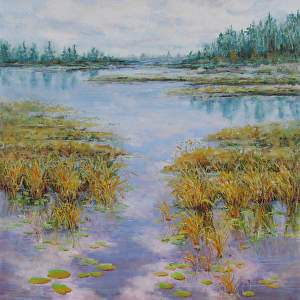 Join artists Lisa Stauffer, Ginny Bueide, Katie Musloff, Kelly Jean Ohl, and Mark Granlund for the opening reception of The Grand Hand Gallery's month-long Botanical Show. The show will feature the work of the three artists, all of whom have an affinity for botanicals, blossoms, and blooms, yet who work in varying media. The event is free and open to the public.
Beer bonus: Libations will be served at the event free of charge, including wines, cheeses, and craft beers. How better to enjoy art than by simultaneously drinking an artfully crafted beer?
---
NCC's 7th Annual Studio Artist Sale
Saturday, July 12, 10:00am–6:00pm & Sunday, July 13, 12:00–4:00pm
Northern Clay Center, 2424 Franklin Avenue East, Minneapolis, MN
Did you know that Minneapolis' Northern Clay Center provides studios and firing facilities for almost 50 local artists? If you'd like to meet said artists and get a better look at authentic Twin Cities' ceramics mosey on down to NCC this Saturday and Sunday for the 7th annual Studio Artist Sale. Mugs, bowls, vases, and new tableware will all be featured in the sale, which is part of NCC's Summer Open House. The event is free, although donations are encouraged, and runs from 10:00am–6:00pm on Saturday and 12:00–4:00pm on Sunday.
Beer bonus: Still haven't stopped by to see the soon-to-be-open Sisyphus Brewing facilities? The brewery's space is located less than 10 minutes from NCC at 712 Ontario Avenue West (right across from the Basilica).
---
The Rabbit Show: Dance Shows that Got Into the Fringe
Wednesday, July 9, 7:00pm (doors open at 6:00pm)
Bryant Lake Bowl, 810 West Lake Street, Minneapolis, MN
Following the tradition started by the late John Munger, the July Rabbit Show will once again feature a slew of dance artists whose shows have been accepted into the Minnesota Fringe Festival. Three weeks before the fun begins, this show presents audiences with the opportunity to preview the dance and movement shows appearing in this year's Fringe. Thus, if you want to discover emerging performance artists, join your fellow Fringe Fest fanatics for this one-night-only sneak peak. Tickets are available online, at the door, or by calling the Bryant Lake Bowl box office and range from $7–$12, or $6 with an official Fringe button.
Beer bonus: Not only does Bryant Lake Bowl offers a fantastic selection of craft beers, said beers can also be taken into the theater.
---
Minneapolis' Myriad Outdoor Movies
Ongoing
Various locations throughout the Twin Cities
Summer is arguably the most enjoyable season to remain outdoors for prolonged periods in Minnesota, so why not take advantage of the fine weather by attending a movie in the park? If you haven't already discovered it, there now exists an online calendar that organizes all the cities' outdoor movie events by month. On the list for this week? Gravity, Little Big League, The Quick and the Dead, How to Train Your Dragon, Soul Food Junkies, Grease, Mulan, The Lorax, and Zombieland. With such variety, and the fact that attendance is free, simply grab a group of friends, pick a night of the week, and enjoy the art of filmmaking al fresco.
Beer bonus: It is possible that local brews will be allowed, if not provided, at several of this summer's outdoor films. Check event offerings and park regulations to be sure.