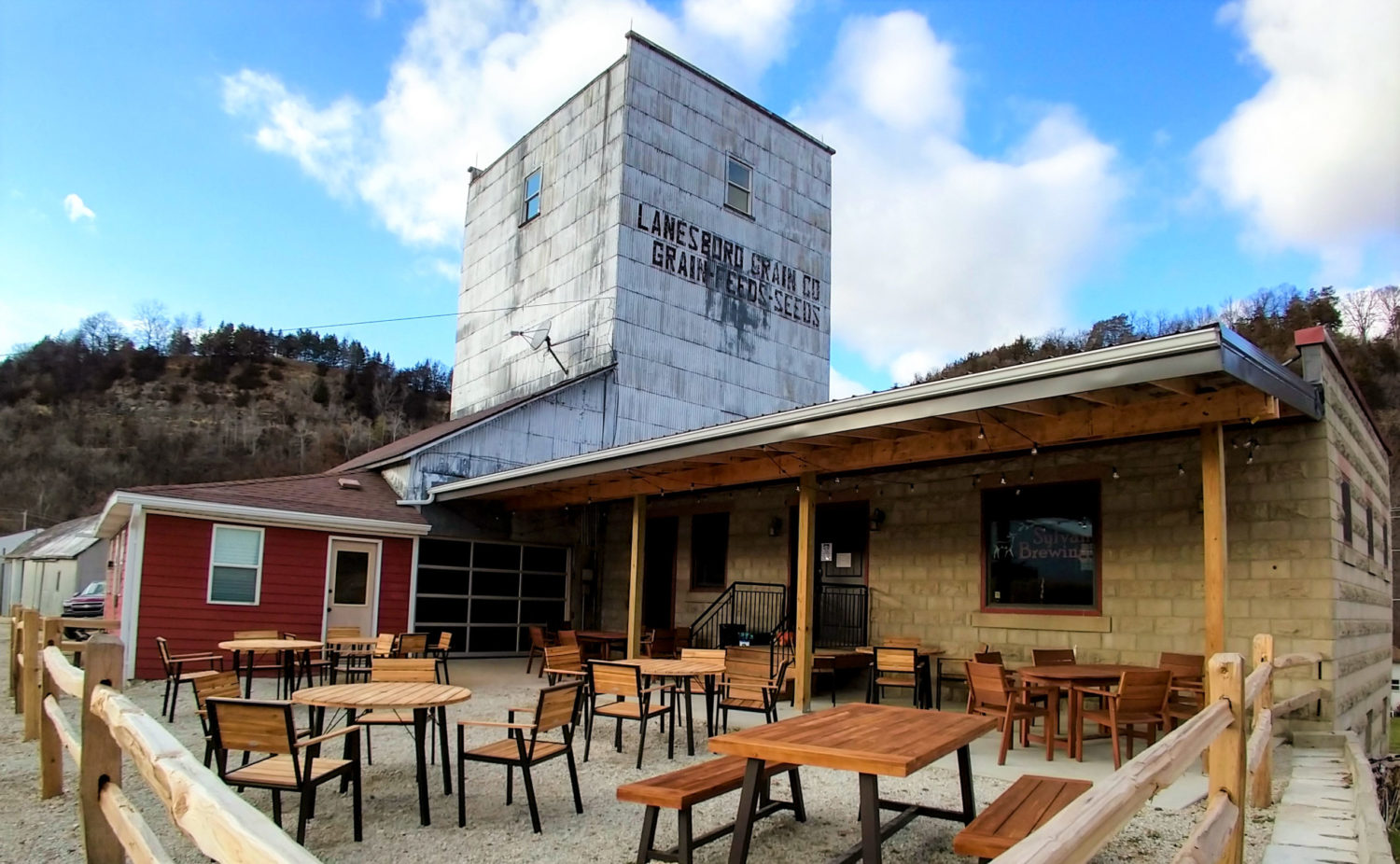 Sylvan Brewing in Lanesboro opened on October 15 • Photo by Karen Heimdahl, Sylvan Brewing
Lanesboro is a Minnesota tourism hotspot. Bicyclists and motorcyclists love to ride around the area, there are numerous activities tied to the Root River, and the town known as Minnesota's Bed and Breakfast capital even boasts two theaters.
Sylvan Brewing owners Andy and Karen Heimdahl hope their brewery will become a destination for tourists and locals alike.
Opened on October 15, Sylvan Brewing is the realization of the couple's long-standing goal. A goal that they nearly gave up on a year or two ago.
"We sat on it for a little bit," Andy says. "Our jobs were fine, but we were pursuing our dreams of buying a farm and farming. Just figuring out what our lives wanted to be. So after about a year, we got really restless and we both came to the same conclusion at the same time that we really wanted to do this."
"Andy's really our creator and wanted to create a product people could really appreciate," Karen says. "He's a computer programmer. Creating a product that people can see and taste—"
"—tangible," Andy interjects.
That determination has resulted in a truly interesting brewery space constructed inside an old granary building.
The Heimdahls liken it to Bang Brewing, which is built inside grain bin. While Bang's grain bin is a modern, circular silo made of corrugated metal, Sylvan's granary nods back to an older era of farming.
"What we are in is what came before [modern grain silos]: a big square wooden tower," Andy says. "We wanted a place with different nooks and crannies. And this place had it." If you had a bird's eye view, the granary would look like a tic tac toe board. The bathrooms are located in converted grain bins. The taproom is located in a building attached to the grain buildings.
"Everyone who knows Lanesboro has said this place should be a brewery," Karen adds.
The brewery features a 3.5-barrel brewhouse that will crank out three categories of beers. "Comfy beers, crafty beers, and eventually crazy beers that are more experimental," Karen says. "Right now, we are focusing on the comfy and crafty beers."
The couple has lived in the Lanesboro area for eight years and they have a good idea of what visitors and locals like in terms of beer. So far, the Lanesbrew Lager, Sweetbender IPA, and Daisy Hazy IPA have been the most popular.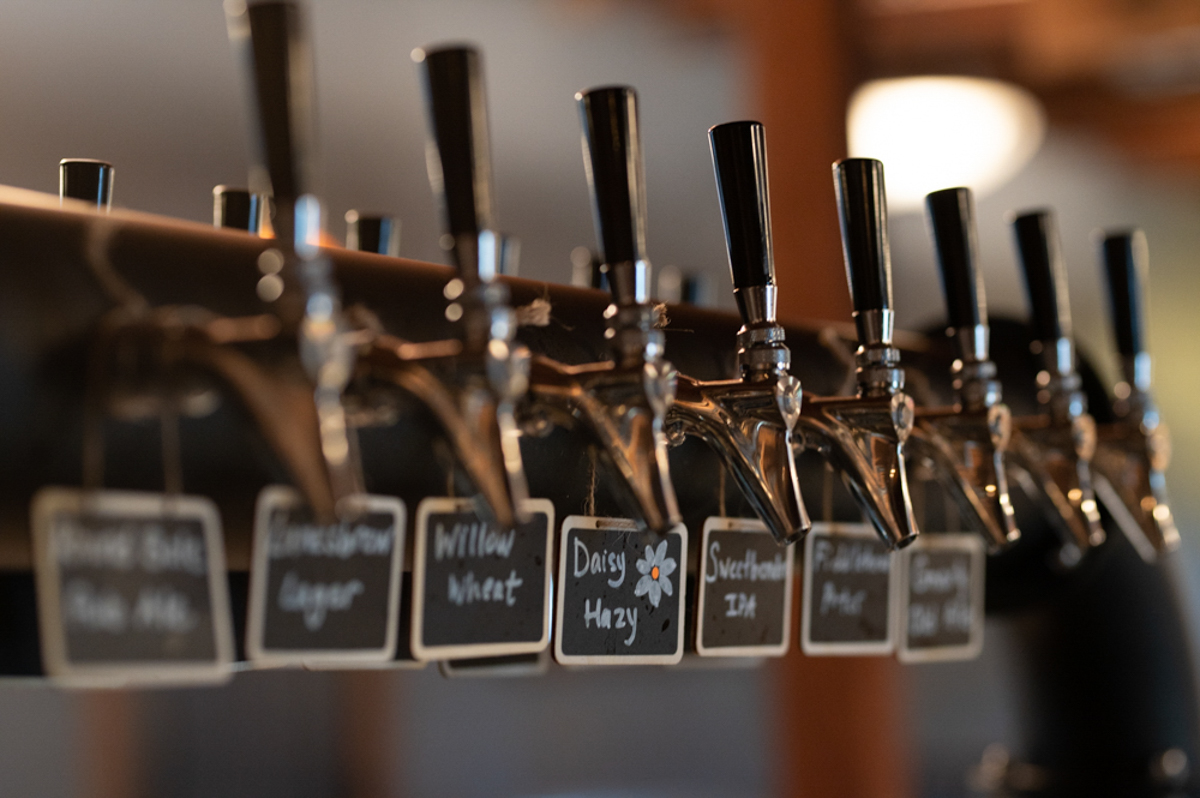 Taps at Sylvan Brewing in Lanesboro, Minnesota • Photo by Peterson Creative Photography & Design
Just like the name of the lager, the name of the brewery ties itself to Lanesboro.
"Sylvan is the name of a park in Lanesboro," Karen says. "We really wanted a name with a local tie. But it also means 'of the woods' but has a pastoral and rural beauty theme to it. No matter what your background or beliefs are, people who live and visit appreciate the natural beauty of the area."
"We have two theaters, a huge art community, a lot of tourists, small-town people, a farm town at the heart, manufacturers," Andy adds. "We have all these different people from different walks here. We all agree on the beauty of the area, especially at this time when it's so divisive. Sylvan just struck the right note for us."
Being able to please tourists and locals will be important, especially in the winter months. The couple says the town gets quiet in the winter but hopes locals keep visiting for beer.
The entire area around Lanesboro has become a day trip in itself with the number of breweries and distilleries in neighboring towns. Places like Karst Brewing in Fountain, Harmony Spirits in Harmony, and Trout City Brewing in Preston form a loop of sorts in what was once a very dry stretch of road for people passing through.
Whether it be visitors or locals, the couple is happy to have pursued their business idea.
"We've had so much support from them," Andy says. "Lanesboro was wanting a brewery. I don't know of a town that was more ready for a brewery."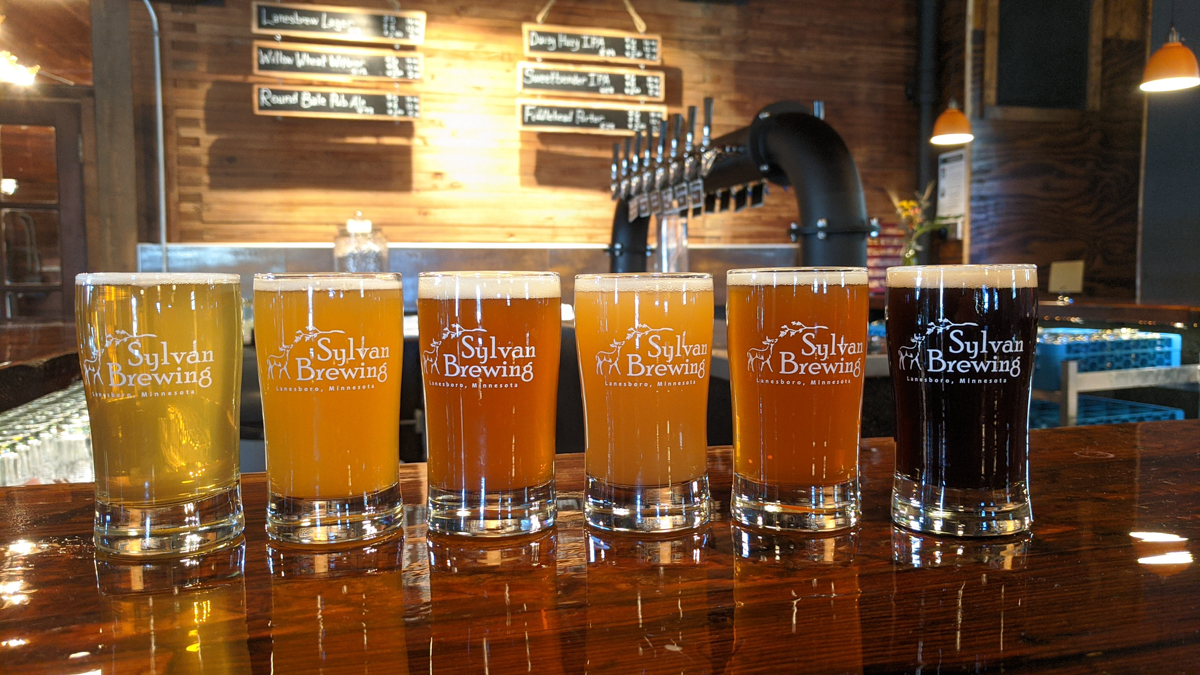 Beer flight at Sylvan Brewing • Photo Taps at Sylvan Brewing in Lanesboro, Minnesota • Photo via Sylvan Brewing
Now Open
Head brewer: Andy Heimdahl
Address: 100 Beacon St W, Lanesboro, MN 55949
Beers: Lanesbrew Lager, Round Bale Pub Ale, Willow Wheat Witbier, Fiddlehead Porter, Daisy Hazy IPA, Sweetbender IPA, Gnarly Old Ale Winter Warmer.
Connect: Website, Facebook, Instagram, Twitter
Hours: Fri: 3–10 pm, Sat: 12–10 pm, Sun: 12–5 pm, Mon: 4–8 pm